DALLAS, Tex. – What is it like to complete a marathon a day for four consecutive days, followed by a 50 miler over 34 hours, then finish off the week with a 10k?
These were some of the questions that 25 runners from the Dallas area turned up to ask on Friday, Feb. 5 at the Dallas REI store, located just off I75 near downtown Dallas. Runners and would-be runners gathered to hear about stage races like Trans-Pecos Ultra (TPU), from race director Chris Herrera and his tribe.
After a brief welcome and introduction into the exciting world of international ultra stage races, Herrera introduced the winner of the 1st annual Trans-Pecos Ultra, Thomas Mullins.
Mullins, a Dallas native and frequent participant in ultra running events around the United States picked up his bright yellow pack, crammed full of gear and dropped it on the table.
"This is what I carried for the full seven days of the race," he said, stripping off his sweatshirt, to just a pair of shorts and shirt. "And this is what I wore." Mullins won last year's event with a time of 37hr 58mins over the equivalent of 6 marathons, or 163 mile course that makes up the Trans-Pecos Ultra. He unpacked his backpack, pulling out carefully measured bags of foodstuffs, extra socks, stuff-sack with a light sleeping bag and down jacket.
The race rules stipulate, the event audience learned, that each runner must carry his own gear and food for the entire race. That means, everything you'll need for the seven day journey in the Big Bend State Park is carried from day one through day seven.
Audience members watched intently as Mullins explained how he carefully counted each calorie he would need throughout the race, commenting that you become incredibly aware of your food and fuel needs in prepping for an event like TPU. He measured his required fuel down to how many dates he would eat during each stage, knowing exactly how many calories and grams of sugar each tiny bit of fruit would give him.
Questions came about how much water was carried (Mullins carried two 16oz water bottles on his pack and refilled at each checkpoint, located along the course six miles apart): How and where to use the bathroom (cat holes are provided at each checkpoint, permanent toilets at camp); Where do you sleep at night (the race provides 10-person tepee tents and a campground at the end of each stage).
Mullins passed around his gear bag to allow everyone to feel its weight; about 20lbs. As he unpacked it, he explained each element, why it was important and how he packed it. Then he showed off the pair of shoes he'd worn.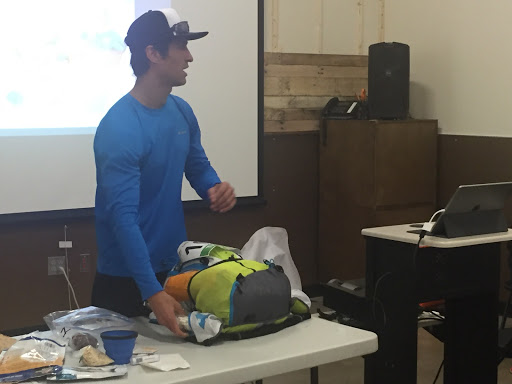 Making a cardinal sin for runners, he'd purchased them new just before the race. But they served him well; he had no blisters during the race, but the tough terrain took their toll on the shoes.
"I haven't worn these since the last stage of the race," he said as he passed them to the audience. With tears along the fabric sides and layered in dirt and sweat, the shoes looked like they'd been used for years, not just seven days. But with 163+ miles of hard trails and desert running, the lightweight runners were done.
One audience member asked Mullins what the hardest part of the race was. With obvious emotion, he said "Saying goodbye." Then he was silent (obviously gathering his thoughts).
He then continued, and it was clear that among several of the the highlights of this unique adventure, was the camaraderie he felt with the other runners (nine started the race with six finishing), the volunteers and race director who all made the event possible.
These deep interpersonal connections are what stood out as unique to TPU compared to other ultra marathons and adventure races he had done in the past.
Herrera then introduced Micah Ferrell, a native of Alpine, Texas who had volunteered last minute to help with the race. An endurance runner herself, she gave the audience a volunteers' perspective of the event.
Actually encompassing ten days in total, Trans-Pecos Ultra is an event not just for ultra runners seeking to test themselves in a new kind of race, but an event for volunteers to discover Big Bend and connect closely with runners and each other.
Ferrell related her story of helping with camp set up each night, working the various checkpoints throughout each stage. running just ahead of the participants to mark the trail, and more.
"My experience as a volunteer went beyond helping mark courses and cheering participants on the course. Trans-Pecos Ultra offered me a chance to stretch my limits as a person and ask the question, 'what more can I give?'; a question that has filtered into my life outside of the desert."
Overall, she, like Mullins, related a story of adventure. Both described what it was like to share a tent with strangers who have now become lifelong friends. Both participants and volunteers, it seemed, pushed beyond perceived limits to find a new self on the other side.
Volunteering again for the 2016 event, Ferrell has become TPU's year-long marketing and social media coordinator. Though she joined in last minute last year, she has become a convert to the insane joy of multi-stage racing.
"We don't say that Trans-Pecos Ultra is a race," said Herrera. "Its an adventure – an open invitation for self-discovery in Big Bend."
The level of camaraderie that TPU inspires was apparent as the event officially ended. Runners and would-be runners with experience at every distance from a 5k up through to 50mi ultras, gathered around to browse the photo book of the 2015 event, and talk to Chris, Thomas, Micah and Event Coordinator April McAnally, each of whom had been part of the inaugural event.
More questions about gear, about volunteering, about every tiny aspect of gear and food demonstrated an eagerness to understand what makes someone take off from work and family to spend ten days total and seven days out in the Chihuahuan Desert within the vast terrain of Texas's Big Bend State Park.
Mullins summed it up when he said that, unlike many ultra-marathon events where runners complete the same loop multiple times, Trans-Pecos Ultra gave you new terrain, new perspectives, new challenges, and opportunities with every step. – Words by Rich Cook
Want to attend an upcoming event? – See Event Schedule